About Disney + Hotstar
Disney+ Hotstar is an online video streaming platform owned by Novi Digital Entertainment Private Limited, a wholly owned subsidiary of Star India Private Limited. Disney+ Hotstar currently offers over 100,000 hours of TV content and movies across 9 languages, and every major sport covered live. Highly evolved video streaming technology and a high attention to quality of experience across devices and platforms, make Disney+ Hotstar the most complete video destination for Over The Top (OTT) video consumers.
Disney + Hotstar Coupons, Extra Bachaopaisa Cashback & Premium Membership Offer @ Rs 299 Only | July 2020 – Bachaopaisa
| Disney+ Hotstar Subscription Offers | Disney+Hotstar Cashback  & Coupons | Validity |
| --- | --- | --- |
| Disney+Hotstar free subscription promo code | Flat 58% OFF+Upto 100 rs BP Cashback | All Users |
| Disney+ Hotstar Premium Offer | Rs 299/Month +Upto 100 rs BP Cashback | All Users |
| Disney+Hotstar VIP Subscription Coupon | Rs 399/Year +Upto 100 rs BP Cashback | All Users |
| Disney+Hotstar Sports Premium Membership | Rs 299/Year +Upto 100 rs BP Cashback | New Users |
| Disney+ Hotstar Premium Promo Code | Rs 1499/Year+Upto 100 rs BP Cashback | All Users |
Subscription plans of Disney+ Hotstar
Its affordable subscription plans make Disney+ Hotstar the pioneering leader in the OTT industry. The company has two subscription plans- VIP and Premium.
VIP- Disney+ Hotstar's VIP plan is priced at Rs. 399 per year. This plan gives you access to only sports and Indian content.
Premium- The premium version of Disney+ Hotstar is priced at Rs. 999. This plan gives access to all the content including Hollywood and Disney+ originals.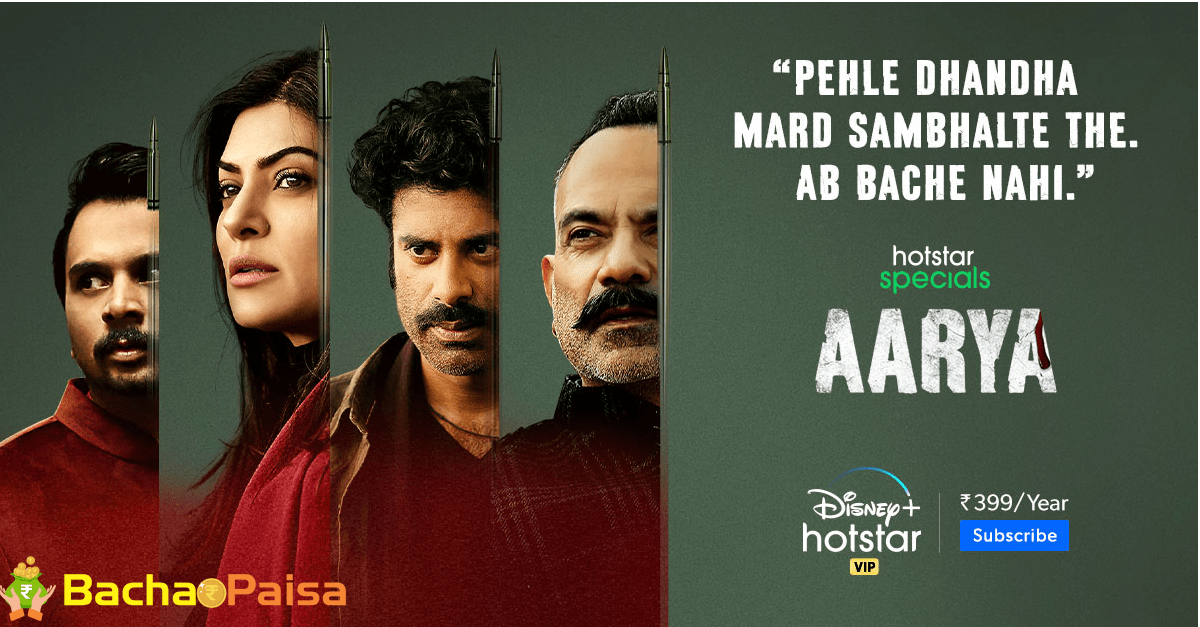 Reliance Jio – Hotstar
Hotstar is giving a subscription offer for JIO play subscribers, as a user and Reliance JIO subscriber people can get entertainment through free access to premium worth Rs 199 / month. Jioplay subscribers can download the app and enjoy free access to premium content such as IPL Live streaming, movies & TV Shows.
Hotstar is best known to feature all the latest Bollywood movies on its platform. If you too are a Bollywood buff and want to watch more and more such movies, don't miss the chance to grab the most wonderful deals on Amazon Prime Video and Zee5. These websites host umpteen number of Hindi web series and movies so that you can never get enough of them.
How to avail the free subscription with JIO Tv?
Open up JIO Tv app and tap on any star Tv channel or program.
Follow the redirection to Google play store/ iTunes to download the latest app.
For an existing user, there will be a link provided with the update of the Hotstar app.
On up-gradation, you can continue to watch your interest of shows that may be star Tv channels or any other Tv shows.
Hotstar IPL Live stream
Hotstar the most entertaining channel is coming up with the most entertaining season for all Indians I.e IPL-2020. Celebrate watching 10th Edition of IPL Live stream. With effect to IPL, the brand is becoming undoubtedly the first entertaining App in beating up the viewership record from last Season. Watch this IPL Season and enjoy The Indian Premier League with your favorite teams. This IPL among Kolkata Night Riders (KKR), Chennai Super Kings (CSK), Rajasthan Royals (RR), Kings XI Punjab (KXIP), Delhi Capitals (DC), Mumbai Indians (MI), Royal Challengers Bangalore (RCB), Sunrisers Hyderabad (SRH) is going to be worth watching.
News Updates
Airtel + Hotstar: The new marketing duo – Airtel has released a new package for Rs. 401 which comes along with a one-year subscription to Disney + Hotstar platform. Customers can view all content with the recharge and will also be given an added advantage of extra GBs for a month.
Change in branding – Popular brand's logo was replaced with a blue dominant logo that has 'Disney + Hotstar' written on is. This rebranding was done right before IPL, which was then postponed due to the Coronavirus outbreak. The ott platform was started in 2015 and was taken over by the Walt Disney company in 2019.
Disney+Hotstar launches in India; hits 8 million paid subscribers – Hotstar which was recently rebranded as Disney+Hotstar launched its service in India on 3rd April 2020. The company also changed its black and yellow logo to a royal blue and white one for the most-awaited Disney+Hotstar. The service is now available in the form of three different offerings- Disney+Hotstar VIP (Rs. 399 per year), Disney+Hotstar Premium (Rs. 1499 per year), and a basic ad-supported version.
Airtel launches prepaid pack of Rs. 401 with free Disney+Hotstar subscription – Telecom giant Airtel has launched a new prepaid plan of Rs. 401 with free Disney+Hotstar VIP subscription. The plan has been started to help people kill the boredom amid the coronavirus pandemic lockdown imposed across the country. However, it is to be noted that the plan is only a prepaid data pack and does not provide voice calling and SMS benefits.